"There is a real inclusivity and grounded reality to his work, and I felt especially uplifted by, and at home in, his paintings. And the attention to detail and color he brings to his glass blowing excites and inspires the mind. Corey is the embodiment of what it means to be a multi-disciplinary artist, an artist who I am excited to see flourish, and it is with joy that I'm selecting him for this week's award..."
- #ILYSM4Artists Judge, Celia Rowlson-Hall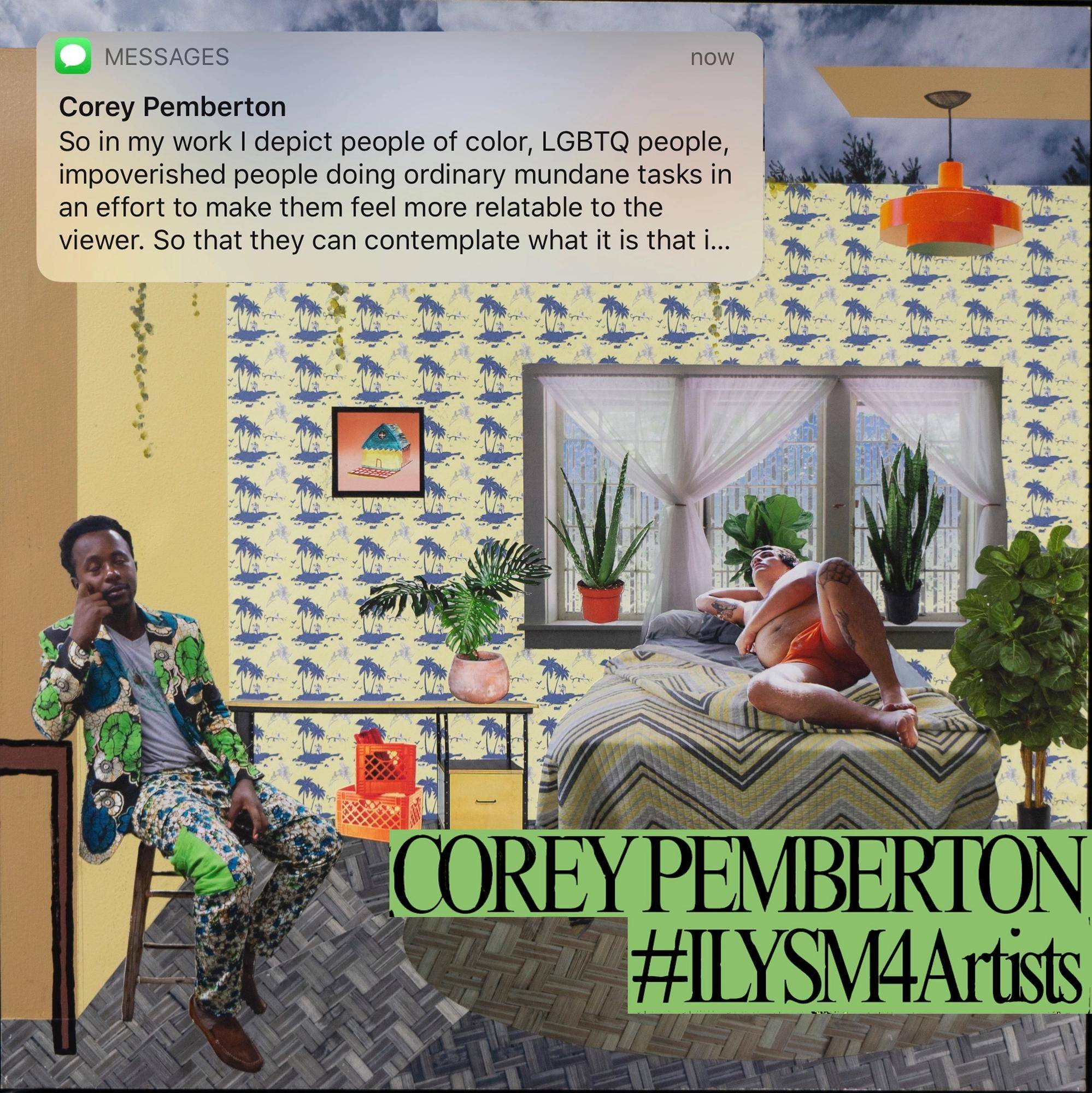 ♡: Hi Corey! Congrats on being ILYSM's first grant recipient. For those just being introduced to your work, how would you best describe your art?
CP: Thanks Jenna! Hmmmmmm...I guess I would describe my art as mixed media collage, with an emphasis on portraiture and interiors.
Technically speaking
Conceptually my works serve sort of as anthropological studies. Providing viewers with a glimpse into the personal spaces of marginalized people.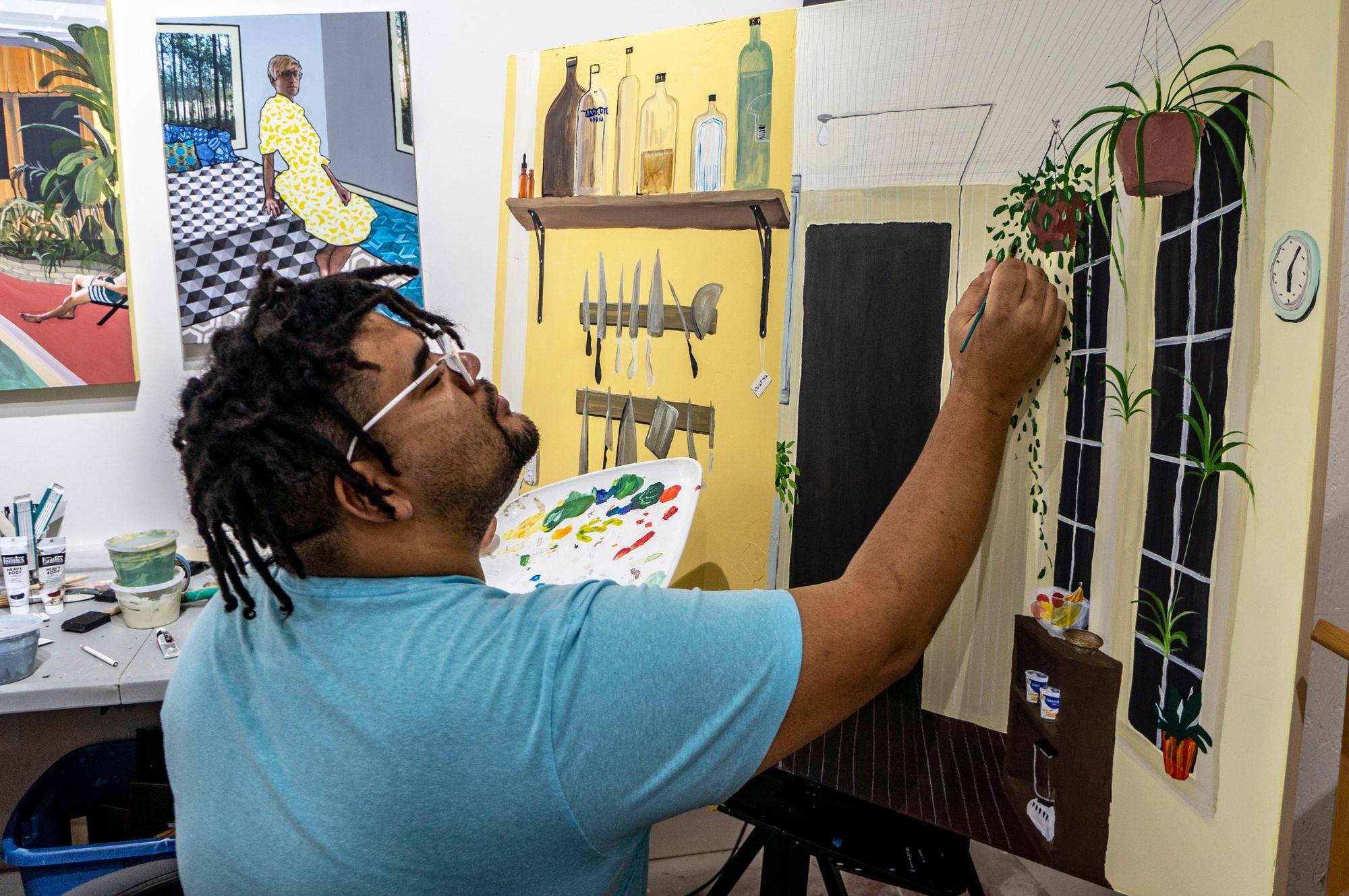 ♡: I was struck by a line in your artist's statement, "As humans we make assumptions about people based on things like race, gender expression, socioeconomic status, etc. but preconceived notions can be one dimensional and ultimately quite harmful. When you feel the world wants to 'other' you or put you in a certain box, home is often the only place where you feel safe and can truly be yourself." Do these themes of home, identity, and belonging resonate differently with you, or appear magnified in a new light given the pandemic?
CP: Well I'd have to say that those themes seem simultaneously magnified and challenged in these times. Magnified in that I now have so much time to curate my space. To really sweat the details. My roommate and I last night were showing each other different objects that we've collected over the years and explaining what they meant to us...that felt special. Challenged in that I'm not exactly choosing to spend all this time at home right now...
I've also been thinking a lot about how this pandemic is effecting different groups of people. I live in an area where a lot of kids rely on meals from school. Where families are devastated by cut hours.
♡: Yes, agree it's really highlighting socio economic barriers in terms of survival and basic needs
CP: And then home becomes a larger concept, as in this nation...and I start to think about all the things throughout history that have made the lines I see all around me
yea
♡: One of the themes in your work celebrates this idea of "ordinary feeling like luxury" - can you elaborate on what that means?
CP: Well its a feeling that I've sort of always had, especially when living in tiny rural conservative towns on the east coast. In Spruce Pine, NC I was almost always the only black person in any given space. Often the only queer as well. And that becomes quite taxing actually. Feeling eyes on you all the time. Being asked to represent or even defend a demographic. Then I moved here, to LA, and felt instant relief. I could sort of blend into the crowd, and I could acknowledge that as a luxury...privilege even
So in my work I depict people of color, LGBTQ people, impoverished people doing ordinary mundane tasks in an effort to make them feel more relatable to the viewer. So that they can contemplate what it is that is truly extraordinary about that person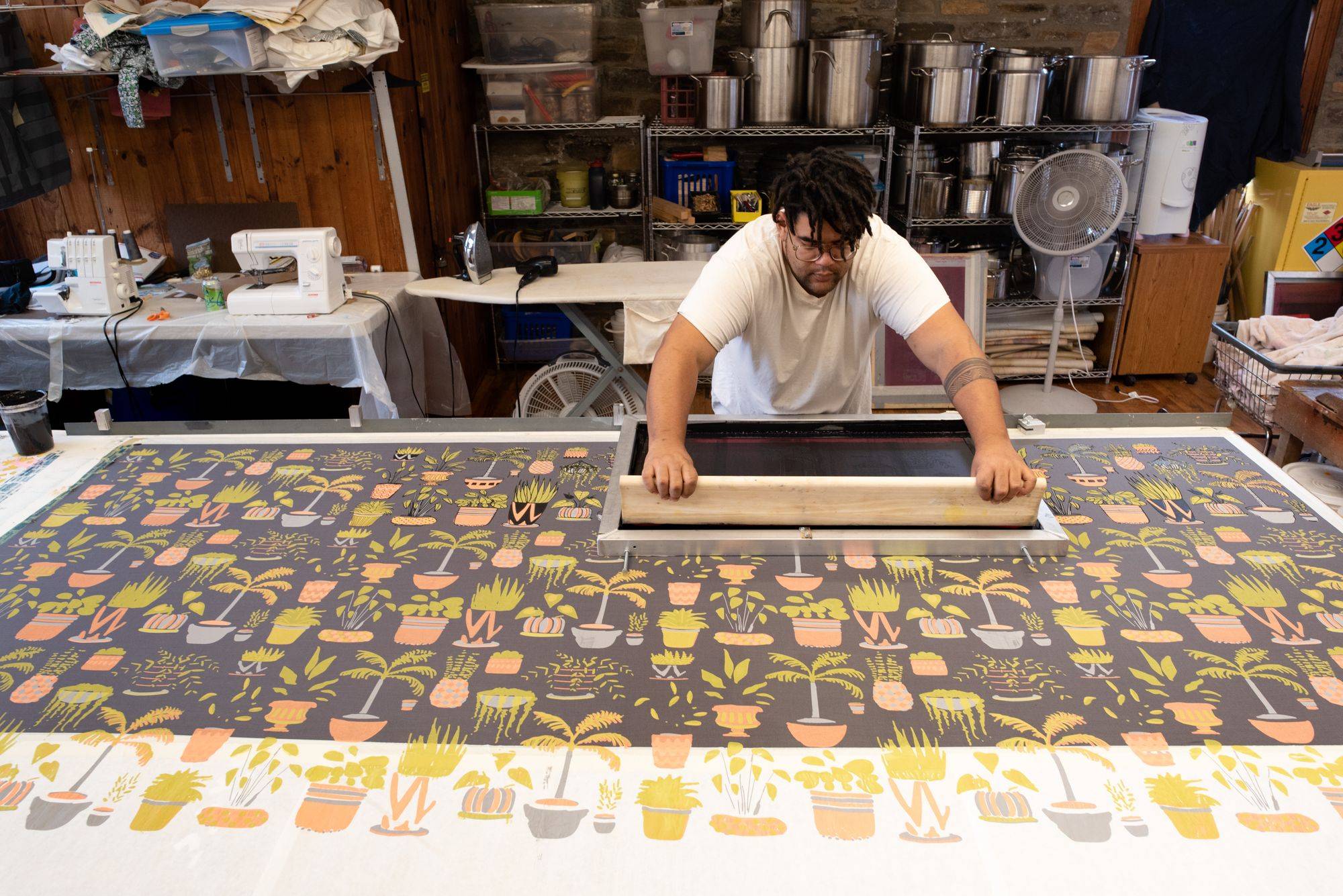 ♡: That feeling you describe is definitely palpable in your work. A really beautiful pause, to rest with the subjects and feel at home with them and in turn more peaceful with myself. It was one of the reasons I was drawn to your submission. That connection described was fully realized. I'd like to chat about your move to LA some more, you talked about the ways it made you feel more accepted but how has LA challenged your point of view as an artist?
CP: Hmmmmm, that's a hard one.
♡: I grew up in LA and for me the sense of isolation was difficult, isolated in cars or just the distance between seeing friends and family versus living in NY and having this sense of immediacy
What's it like navigating as a young artist and trying to create recognition with so much competing content?
CP: One way that I've been challenged is perhaps the flip side of that same coin. I stood out more as a queer person of color in rural North Carolina. Now I have so many amazing artists around me with similar stats and similar view points competing for the same opportunities. I'm starting to realize however, that I am not competing with these other artists. There is space for all of us and one thing I'd love to see in the future is a gallery in a major museum dominated by artists of color, where the theme is not based on the fact that they are all artists of color. Also, I'm finding that it is stifling to watch other artists so closely. If I just trust my inner voice and say what I need to say without wondering if someone else already said it better...thats when I make my best work.
♡: Agree about following your inner voice. I feel like we have a lot of pressure to do things quickly or judge other people speed of success instead of allowing time to process and put blinders on and give oneself that moment to become versus compete
CP: Yes, it sucks
Haha
♡: What has been most beneficial to getting your work recognized? Were there any programs or residencies you would recommend?
CP: I completed the Core Fellowship at the Penland School of Crafts in North Carolina a little over a year ago, and that program was huge for not only my artistic development, but for making connections and friendships in the art world.
I would highly recommend
♡: I wanna talk about your process a little. How would you describe your process from inspiration to creation? Do you have any rituals- or is it constantly changing?
CP: It changes. But almost always starts with a conversation. I'm often just hanging out with a friend or loved one and then they say something that resonates with me. Something that speaks to my overarching theme and bares repeating. If I'm lucky, we'll already be in my home or theirs and I'll have my camera ready. That's the best, because their guard is down and nothing is staged. Sometimes I have to set up a separate time to take their photo though. Then I work from photographs, taking liberty to change the persons space or clothing or whatever. I get to sort of play interior designer for a moment..but I'm also weaving in objects that are rich with content and character pertaining to the subject.
♡: Are there any patterns that you've noticed in your work that were unintentional from conception, but something you are realizing through the process of your evolution over time?
I love that, are your friends ever annoyed to be subjects?
CP: At the aforementioned Penland, I got to play around with lots of different materials (wood, paper, glass, fiber, clay)...and I find more and more, that material study creeping into the work. And I love when the viewer is forced to spend more time questioning what it is that they are looking at. Is that paint? A photo? Wood? Cork? Yes! It is all of those things. It's complex like the subject, and worth our time!!!
No, most of my friends are quite vain, lol.
They love it
♡: Hahahahah!
CP: Lately I've been experimenting with some street photography...and random strangers are definitely annoyed by my request to photograph them.
Especially when I roll up on them in my Corona mask
♡: I can imagine
Omg 😱
CP: #socialdistancing #illdobetter
♡: It's been wild seeing how people translate the social distancing with photography - I saw one guy on IG conduct/direct selfies to a model
CP: Woah, I love that
♡: What's your studio vibe like, are you messy in your space or is it more like organized chaos? *current photos appreciated*
CP: I'll shoot you some pics when I go in later. It feels like a total mess to me, but I've seen way worse. I'm pretty good about straightening up just enough at the end of every day that I won't be totally bummed out when I arrive the next day. And after I complete a piece, I almost always do a real clean-up.
But honestly, pretty messy. And I can never find what I'm looking for.
The glass studio, however, is immaculate
♡: Appreciate the honesty!
CP: Of course
♡: I noticed on your IG that you had taught some portrait exercises with 6th graders. Can you talk about that experience, was that eye opening in anyway in terms of seeing different approaches to material, and their concept of identity at a young age?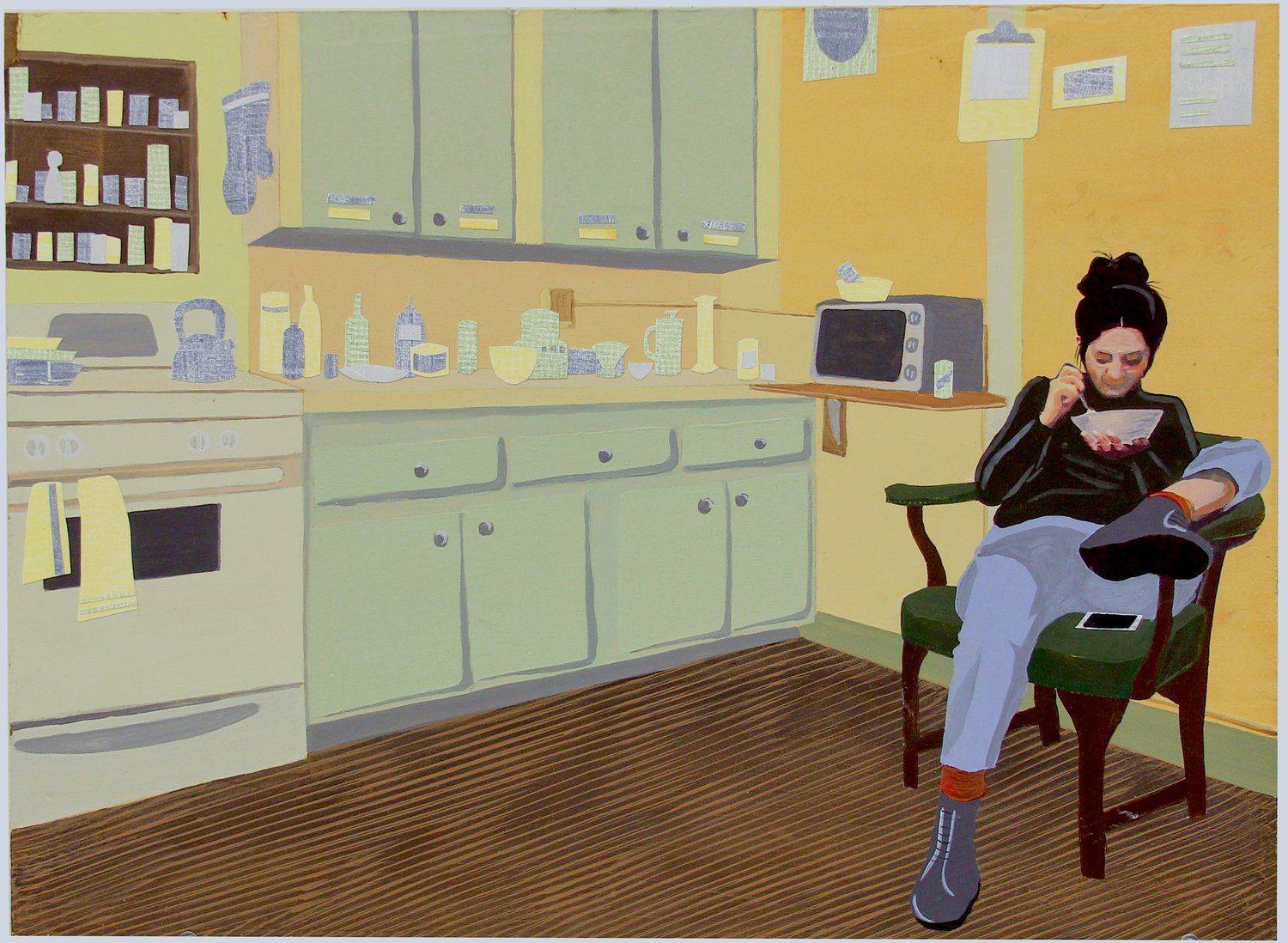 CP: Yea! That was a great experience. Very challenging in many ways. That school had barely enough funding to buy a single pencil for every student in the art class. And the class size was over 20 students each with periods of only 40 minutes. Really really shitty circumstances. But we managed to make some great paintings. I found that these kids were so aspirational with their work. It was always them building the space that they hope to have some day (or rather that they know they will have). Some students lacked that confidence and really struggled to get started. But were so proud once they finished a piece. At the end of the class, we had an exhibition with a proper opening and everything. For a few students, this was major. Seeing their art on a wall and receiving praise. Realizing that this could be their life.
♡: That's really moving, and very necessary
CP: I've been doing some more work with an organization called the Heart of Los Angles, here in the rampart district. They are fabulous and always looking for volunteers if anyone is interested!
They provide programming in the arts and academics to underserved youth in LA.
♡: Ok great will look into them. My mom is a teacher in LA and will appreciate sharing with her students. What's something you wish they told you in art school?
CP: Hmmmm....I wish they had told me to trust myself. It wasn't until years later that someone gave me that advice. I was instead conditioned to question and doubt every stupid little thought that crossed my mind. Am I the authority to speak on this matter? Can I even draw? Once I learned to accept my style as my style and my opinions as valid and potent...a whole new world opened up. It takes time though
It would have been nice if they taught me how to make money too...HA!
Oh and I'm still filled with self doubt. I'm just a little better at silencing it now
♡: Honestly they should have an art finance class across the board
What's been the biggest shift in your work habits since COVID 19, have you approached working with new mediums? I know you spoke of the street photography... But anything else?
Have you had any issues sourcing supplies with things shut down?
CP: Well this is sad to say out loud..but since our studio shut down and checks stopped coming, I haven't been able to afford materials...even if the companies supplying them were open. So I'm sort of scrounging up whatever I can from around the studio. Trying to rehydrate old house paint. Painting over old paintings since I can't afford new substrates. This coming week though, I'm finally going to get my online print shop going that I've been talking about forever. So that will be good.
Sorry, you probably wanted to hear more about happy discoveries?
♡: No, this is a gutting but necessary conversation. I think people could use more of these frank discussions so we can be more helpful in the long run, as a community and as a neighbor. Definitely challenging but look forward to seeing what happens creative wise as a result. What's the best way for people to contact you to purchase a print?
CP: Right now they can slide in my DM's @instantglassic or contact me through my website. Next week I plan to have the print shop live at www.coreypemberton.com
♡: Perfect!
Last question- what are three things you would recommend people to engage with while at home now (ex art, book, podcast episode?)
CP: Great question!
I've been devouring blonded radio on Apple Music. Highly recommend. Go ahead and cook something from
Jerusalem: A cookbook by Yotam Ottolenghi
And if you're a sicko like me, watch Tiger King on Netflix
Oh and check out the photography of Carrie Mae Weems if you're not already familiar
♡: 🥂 to the sickos, thank you so much Corey, looking forward to seeing more of your work
CP: Thanks Jenna!
👋🏾
Corey Pemberton (American b. Reston, VA 1990) received his BFA from Virginia Commonwealth University in 2012. He has completed residencies at The Pittsburgh Glass Center (PA), Bruket (Bodø, NO), as well as a Core Fellowship at the Penland School of Crafts (NC). He currently resides in Los Angeles, California where he splits his time between a production glass blowing job and his mixed media painting practice.